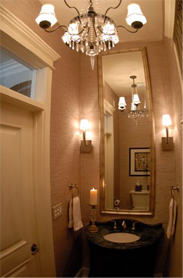 We build each Spartan Development home using a logical, step-by-step process.
There is a natural flow to the work. We won't start something until the previous phase comes to full completion. It' s all linear, one thing at a time. The process is methodical, but moves along efficiently, aimed at getting your home move-in ready as soon as possible.

The process is divided into 8 phases:
Phase 1
During the pre-construction meeting, you are invited to sit down with us to do a final review of your home design. We'll review the blue prints and talk about what to expect during the building process. Once permits are cleared, construction will begin.
Phase 2
The foundation is the concrete structure that supports your entire house. Our architect will determine the best foundation for your home. Once we've designed the foundation, the forms will be built, the concrete is poured and the rough plumbing put in place.
Phase 3
The frame is the skeleton of your home. Some Spartan Development homes have concrete block or wood frames. Windows and fireplaces are placed in the frame and this phase takes between 1 – 4 weeks.
Phase 4
If the frame is the skeleton, then the rough mechanicals are the internal organs of your home. During this 3 – 6 week phase, air conditioning, heating, ventilation,
plumbing, and electrical wiring are installed in the structure. We'll also install security systems, central vacuum and pre-wiring for your phone, stereo and data systems at this point. This is a unique time to visit the job site to orient yourself to your new home and verify the options you've selected are in place.
Phase 5
The is the midway point of the building process. The finish is the skin of your home, including drywall, roofing, siding, concrete walls, the garage, fences and all major interior and exterior surfaces. You'll be invited for another inspection because now you'll see your house starting to look like a home. Coutnertops and cabinets are installed, the house is painted and stained. Tile is installed and the remaining
plumbing and electrical items are finished.
Phase 6
Now the fun really starts. During this phase, you will begin to recognize the home you designed and imagine the future you'll create. We install faucets, light switches, towel bars, door knobs and all of the small hardware you'll be using on a daily basis.
Phase 7
Now we will have the flooring installed because the messy work has been completed. Any minor adjustments take place now like window screens, drywall and paint touch ups. The house is given a thorough post construction cleaning and is ready for our final inspection.
Phase 8
After weeks of hard work and patience, it's time to do the final walk through. At this point you sign the closing papers, then you actually get to slide the shiny new key into your front door.